Joined

Jul 17, 2006
Messages

72
Location
v1.0.4 Comments
Hi Neal,
Here are some comments from my in-flight test of v1.0.4:
First off: I love it!
The time zone issue is completely resolved, and the options to use GMT and set a flight as 'pending' are fantastic. Also, I like the ability to further customize the fields that are diplayed on the 'new flight' screen. Thank you for these new features, and once again thank you for the time you put in to getting the time zone issue resolved - I can't tell you how much I appreciate it!
Unfortunately, however, I've encountered a few new issues:
(1) When saving a 'pending' flight, I get a pop-up with an 'Error SaveRecent' message that reads: 'Object reference not set to an instance of an object'. Here is a screenshot: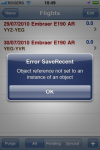 (2) I consistently get a freeze followed by a crash after turning 'aiplane mode' off and then returning to the app with the 'new flight' screen open. I have been able to consistently reproduce this crash using the following steps:
- turn 'airplane mode' ON
- open 'new flight' screen
- exit Logbook Pro
- turn 'airplane mode' OFF
- resume Logbook Pro
This seems to have nothing to do with time zones (I have tried it with and without time zone changes). I'm on the road for another couple of days, but I'll see if I can dig up some crash logs and get them to you when I return home. Using the 'pending flight' option will avoid this issue (and I do), but there are instances where I would like to leave the 'new flight' screen open and return to the app at a later time. The whole poing of multi-tasking is to allow you to do this.
I also have a couple of comments
entirely
cosmetic in nature, and more nit-picky than anything (but I know you like perfection):
(3) The red font of the date / aircraft type line of flights saved as 'pending' is a different size than the rest. Sometimes, when editing one of these entries and saving again, the font will shrink to the correct size. This is illustrated in this screenshot: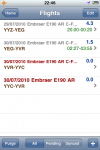 (4) This comment is
extremely
minor in nature, and more selfish than anything (I almost feel stupid bringing it up). The text in a blank 'ident' field on the 'new flight' screen says 'N-Number'. Is there any way to make it read something more universal to include countries that don't use n-numbers, such as 'reg. no.', or 'reg. markings', etc.? I know, very, VERY nit-picky.
Anyway, those are my initial comments. This version is by far the best yet, with some great new features and all of the issues we discussed earlier resolved. Thank you for all the effort you've put into this app - it is now my far one of the most useful on my iPhone.
Cheers,
Chris