First three legs completed, 5:18 actual. Last leg blocks out at 15:26: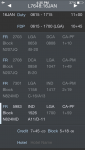 After blocking out, we are told our EDCT is 1600 local. Here is the first what-if scenario: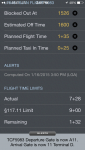 Out at 15:26 (actual), projected off at 16:00+1:35 flight time+25 taxi = IN at 1800 with Block of 2:34.
5:18 Actual (already flown) + 2:34 projected = 7:52.
NOT 7:28
Remaining should be 1:08.
NOT 1:32.
How do we get 1:32? That is 24 minutes more than we really have. So I have this $150 program that can't do basic arithmetic, and I still need to use the back of a napkin to validate it's calculations. I can't trust it!
Once again, I am going to keep saying this - What we really need is LATT. All this other stuff is useless.
LATT = last possible takeoff time that would = 9 hrs flight time (in this case, or max FDP if its more limiting).
In this case, LATT = 17:08, because 15:26 actual out, 17:08 projected OFF, +1:35+25 = 19:08 In. 3:42 block.
3:42 Projected Block + 5:18 actual = 9 hours. If you wanted to keep the current screen, why not just put underneath REMAINING, under FLIGHT TIME LIMITS, in RED, Latest Authorized OFF = 17:08.
Ok, so I did it again, I'm not sure what I did differently, all the screens look the same, but now I get a closer answer. Inexplicably 1 minute off (1:07 instead of 1:08), but closer: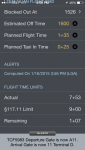 But look at the FDP: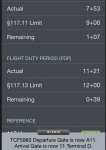 Started at 6:15. Based on the 1600 Off time+1:35flight+:25taxi we should be IN at 18:00. 6:15 FDP start to 18:00 FDP end = 11:45 with :15 Remaining.
NOT 11+21 with +39 remaining
.
What is up with that?
OK, so I started playing around a little more and it just got weirder.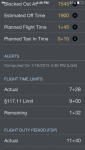 So I changed the numbers to reflect the EDCT time being extended. Instead of 1600 off, It's now 3 hours later at 1900. This would be a 5:15 block. Out at 15:45, Off at 1900 + 1:45 flight + 15 taxi means IN at 2100, and with an OUT of 15:45 that's 5:15 block. 5:15 projected block + 5:18 already flown is 10:33. Yet the Flight time limits didn't change to reflect this. It still says LEGAL with 1+32 remaining. It is as if it just didn't update the calculations at all! Do I need to do anything to get it to calculate? I tried tapping the "recompute" button, but it doesn't seem to change anything.
Here is another change to the projected times with no effect on the remaining time: